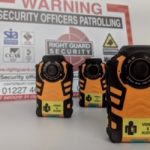 Excellent product with fantastic support
'Excellent product with fantastic support'
Right Guard Security UK Ltd have been using Body Worn Video Cameras supplied by B-Cam for many years.Whatever the venue type our operatives always feel safer when wearing a B-Cam body camera.The body cameras are excellent, user friendly and robust for the working environment.Not only is the product fantastic, but so is the technical support and customer service.
Paul H, Right Guard Security
Akon Security
We use body cameras to minimise conflict to maintain a high standard of professionalism within our staff. The footage is used to record any important detail to help reduce future problems. The camera rollout has provided an invaluable tool for safeguarding our staff, clients and customers.

B-Cam body worn cameras have been of great benefit
B-Cam body worn cameras have been of great benefit to us in reducing crime and the fear of crime. In the last year we had an 88% reduction of assaults on staff and a 50% reduction in revenue loss.Chris Whitewood, Mars Loss Prevention Specialist

A welcome addition to the security and safety
The BWC has been a welcome addition to the security and safety of the shopping centre. Since its introduction last week, we have seen a behavioural change in young people's conduct as they pass through the shopping centreGordon Glean, Security Manager